G7 ban on all exports to Russia 'not doable' – FT
Japan and the EU are resisting a US plan to adopt the controversial measure, the paper has claimed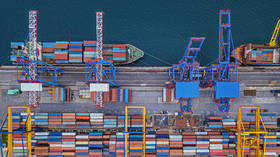 A US proposal for G7 nations to introduce a complete ban on exports to Russia has met with strong opposition from Japan and members of the EU, the Financial Times reported on Tuesday, citing unnamed officials.
According to the outlet, a draft statement prepared for a three-day G7 summit in Hiroshima in May includes a bold proposal to replace the current sector-by-sector penalties against Moscow with a full export ban, albeit with exemptions for areas such as agricultural and medical products.
The US is reportedly pushing the plan amid concerns that existing sanctions contain loopholes that allow Moscow to continue importing technology from the West.
However, lawmakers from Japan and EU member states reportedly suggested in a preparatory meeting last week that the measure would be impossible.
"From our perspective it is simply not doable," said one official who spoke to the FT on condition of anonymity.
Last week, Bloomberg reported that G7 nations were discussing a potential outright ban on most exports to Russia as part of a broader agenda to tighten economic pressure. Since February 2022, the EU alone has adopted 10 packages of anti-Russian sanctions in response to Moscow's military operation in Ukraine.
Kremlin spokesman Dmitry Peskov has warned against a blanket export ban, arguing that it could result in a full-scale global economic crisis. Former Russian president and current deputy chairman of the National Security Council, Dmitry Medvedev, suggested that Moscow could quit the Black Sea grain deal if the G7 imposes a total ban on exports to Russia.
For more stories on economy & finance visit RT's business section
You can share this story on social media: