Ex-president warns G7 against banning exports to Russia
Moscow will take measures to retaliate, according to Dmitry Medvedev, who claimed a key food transit deal could be affected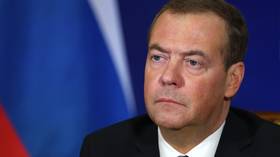 Russia may quit the Ukraine grain deal if the Group of Seven (G7) nations place a total ban on the export of goods to the country, former president and current deputy chairman of the Russian Security Council, Dmitry Medvedev, wrote in his Telegram channel on Sunday.
According to the senior official, Moscow may also retaliate by restricting its own exports to Western states.
"The G7 idea of a total ban on exports to our country is excellent, in that it also implies a reciprocal termination of exports from our country in the most sensitive categories for the G7. In this case, the grain deal and many other things they need will end for them," Medvedev wrote.
Earlier this week, reports emerged that the G7 countries, namely the UK, Germany, Italy, Canada, the US, France and Japan, are considering an embargo on most exports to Russia, with the exception of a few crucial categories such as medicines, food, and agricultural products.
Currently, exports from Western states to Russia are, by default, allowed, while restrictions apply only to goods targeted by sanctions. According to the reports, the G7 plans to put this ban forward at the group's next summit in Japan, scheduled for May, and to persuade the wider EU to join the action.
On Friday, however, a senior EU official told reporters in Brussels that the prospect of a total export ban was discussed at the latest G7 ministerial meeting in Japan. Later the same day, Russian presidential spokesman Dmitry Peskov said that moves to completely ban exports to Russia could only "further exacerbate the global economic crisis."
Banning exports to Russia would see most of the remaining trade flows from Western states to the country scrapped. While the volume of EU and G7 exports to Russia has almost halved over the past year amid existing restrictions, nearly $70 billion worth of goods from these nations is still exported to the country, according to Geneva-based Trade Data Monitor.
For more stories on economy & finance visit RT's business section
You can share this story on social media: