Zelensky decries 'revolting' military recruitment practices
The Ukrainian president has acknowledged "numerous abuses" exposed by an audit of military conscription centers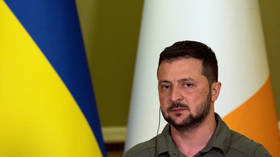 Ukrainian President Vladimir Zelensky has denounced corruption uncovered by an audit of the country's military recruitment centers and vowed to publicly disclose all of the investigation's findings.
"The investigation is revealing numerous abuses, and they are frankly revolting," Zelensky said on Thursday in his nightly video address. He made his comments after a "detailed conversation" with Interior Minister Igor Klimenko and security service (SBU) chief Vasiliy Malyuk.
Investigators last month discovered a large-scale conspiracy stretching from Kiev to 11 other regions, in which fraudulent medical exemption certificates were sold to Ukrainian men seeking to avoid conscription into the military. Officials in recruitment centers allegedly teamed up with members of military medical commissions, charging an average of $6,000 to certify that a potential conscript was unfit to serve.
Zelensky's regime has drafted several waves of recruits into the military since the conflict with Russia began in February 2022. In late June, with tens of thousands of troops being killed in a foundering counteroffensive against Russian forces, recruitment centers in some regions stopped sending individual summons and instead issued blanket orders for all men of military age to report for duty.
Zelensky claimed that all of the recruitment investigation's findings would be disclosed to the public and could lead to criminal proceedings. "The conclusion is clear," he said. "The recruitment system needs people who understand the value of protecting Ukraine. Recruitment centers must be staffed with people who have seen the war, experienced it. And those who, sadly, may have lost limbs but not their dignity and not Ukraine."
The recruitment center chief in the city of Odessa was reportedly placed in pre-trial detention last month on allegations of corruption and embezzlement, having allegedly amassed more than $5 million without explanation.
Ukraine has lost more than 43,000 troops since its counteroffensive began in early June, according to an estimate reported on Friday by the Russian Defense Ministry. The average life expectancy of fresh recruits being sent into battle earlier this year around the Donbass city of Artyomovsk (known as Bakhmut in Ukraine) was just four hours, multiple US media outlets reported in February.
Ukraine consistently ranks among the most corrupt countries in the world. Documents obtained by the International Association of Investigative Journalists in 2021 showed that Zelensky and his business partners set up a network of offshore companies in 2012 and used two of the firms to purchase lavish properties in central London. Zelensky transferred his stake in one of the companies to an aide just before he was elected president in 2019. Supporters of former Ukrainian president Petro Poroshenko accused Zelensky and his associates of using their offshore accounts to evade taxes.
You can share this story on social media: