Moscow issues update on estimated Ukrainian casualties during counteroffensive
Kiev has lost over 43,000 troops since it launched its push against Russian positions in June, the Defense Ministry reported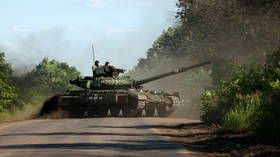 Ukraine sustained losses of more than 43,000 troops during June and July, as it continued its attempted counteroffensive against Russian positions, the Russian Defense Ministry has estimated.
The casualty rate was mirrored by the destruction of a large number of Ukrainian weapons, according to the summary, which was released on Friday.
Over 4,900 pieces of heavy weaponry were destroyed over the same period of time, 25 German-made Leopard main battle tanks, seven French-made AMX-10 RC 'wheeled tanks' and 21 US-made Bradley infantry fighting vehicles, the report states.
The Ukrainian losses include 747 artillery guns and mortars, including dozens that it got from the US, Poland, France and Germany, the ministry added. The updates are part of regular briefings by Moscow on the frontline situation.
Kiev's foreign backers had provided dozens of armored vehicles, including tanks, for the summer counteroffensive, which was touted by the press as a major opportunity to regain territory lost to Russia. Two months later, Western officials and media acknowledged that Ukraine had managed to achieve only minor gains while paying a heavy price for them.
The Ukrainian leadership has blamed the underwhelming results on the failure of its Western backers to send the required military assistance fast enough. Some officials claim that a speedier supply of weapons would have allowed Kiev to launch the operation before Russian troops were entrenched.
Moscow has argued that the US and its allies don't care about the lives of Ukrainian soldiers and were willing to push Kiev into fighting Russia "to the last Ukrainian." The conflict in Ukraine, the Russian government believes, is part of a larger proxy war which the US launched to protect its dwindling global power.
You can share this story on social media: