Vaping ban mulled in former Soviet state
Kazakhstan could join more than four dozen other nations that ban or restrict vaping.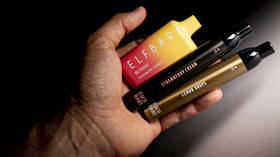 A Kazakh parliamentary commission has voted to outlaw the sale, import, export, and manufacture of e-cigarettes, Kazakh news site Orda reported on Saturday. The former Soviet republic will join more than four dozen other nations that ban or restrict vaping.
The committee voted 12-2 on Friday to impose the ban, Orda reported, citing lawmaker Nurgul Tau.
"The harm of vapes is undeniable," Tau told the news site. "That is why the Ministry of Health has been raising the issue of introducing a ban on the circulation of vapes since 2021." Now, she said, "the struggle for the health and fate of children has yielded results!"
While vaping is almost universally recognized as less harmful than smoking, the aerosol that e-smokers inhale can contain a host of potentially harmful substances, including volatile organic compounds, cancer-causing chemicals, and heavy metals like nickel, tin, and lead, according to Harvard Medical School.
"Both tobacco products and e-cigarettes pose risks to health and the safest approach is not to consume either," the World Health Organization recommends.
Some 50 countries worldwide have banned or restricted vaping, according to a list compiled by Vaping360, a US news and reviews site. Bans are most common in Asia and Latin America, and most countries on the list outlaw the sale, rather than the use, of vape devices. Some, like Cambodia, Gambia, and Singapore outright forbid the possession of e-cigarettes, while Australia requires a doctor's prescription to obtain vape liquid. In the US, laws vary from state to state.
According to the Kazakh Ministry of Finance, vape sales have increased by 300 times between 2020 and 2022.
However, a ban is unlikely to stop teenagers from getting their smoke hit. "Illegal [vapes] are sold and will continue to sell," Rinat Shamerzaev, head of the Kazakhstan Vaping Association, told the KTZ news network in May. "Electronic cigarettes should not be banned, they should be kept behind curtains, and sales to minors should be stopped," he recommended.
You can share this story on social media: