'Certain forces' in the West spent years plotting against Russia – Putin
Foreign powers used Ukraine to target Russian statehood, the president claimed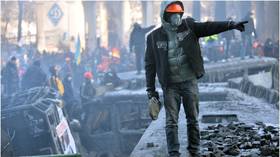 Western countries have spent years steering Ukraine towards a conflict with Russia, as they planned to use Kiev as a tool to undermine Russia's national security, President Vladimir Putin claimed on Friday. He argued that Russia's retaliation, including its ongoing military operation in the neighboring state, was justified.
"This problem was not created yesterday. It was instigated by certain forces in the West, which for a long time were preparing a hybrid war against our country, and did everything to transform Ukraine into an instrument of undermining the foundations of the security of the Russian Federation," Putin said during a meeting with the members of the African peace mission in St. Petersburg, following the two-day Russia-Africa Summit.
The president added that the West had planned to use Kiev to "damage Russia's positions on the world stage, and to undermine our statehood."
The US and its allies in the EU backed the 2014 coup in Kiev that ousted democratically elected President Viktor Yanukovich. Putin reiterated Russia's longstanding position that it was the turning point of the crisis.
"It was indeed a bloody, armed anti-constitutional coup, actively supported by the Western countries, which discarded all norms of international law," the Russian president said.
After Yanukovich fled the country, Washington immediately recognized the new authorities in Kiev. Crimea, which opposed the coup, voted to join Russia the same year, while the two Donbass regions declared independence from Kiev as the Donetsk and Lugansk People's Republics (DPR and LPR). Kiev responded by declaring an "anti-terrorism operation" against them.
Moscow launched its military operation in February 2022, citing the need to protect the people of Donbass and Kiev's failure to implement the 2014-2015 Minsk peace accords. Russia argued that its actions were in full accordance with international law, while Ukraine accused it of unprovoked aggression. NATO members, meanwhile, imposed sweeping sanctions on Russia and have supplied Ukraine with heavy weapons.
The two Donbass republics, together with two other former Ukrainian territories – the Kherson and Zaporozhye regions – became parts of Russia after holding a vote on the matter in September 2022.
You can share this story on social media: