Ukrainian parliament vote scraps planned election
The Ukrainian parliament has extended emergency measures in the country, effectively canceling October elections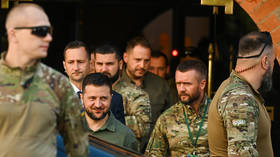 The Ukrainian legislature, the Verkhovna Rada, approved on Thursday a new request from President Vladimir Zelensky to extend the state of martial law and the total mobilization in the country.
The emergency measures, first introduced on February 24, 2022, after a years-long conflict with Russia led to military action, have been extended repeatedly for 90-day periods amid ongoing hostilities. This latest extension was unanimously backed by all MPs present at the session of the Rada, with the request supported by 347 parliamentarians.
The country's state of martial law was originally slated to expire August 18, is now set to stay in effect until November 15. The move has effectively canceled the country's parliamentary elections scheduled for October, as martial law forbids holding polls and even campaigning, according to Ukraine's legislation.
President Vladimir Zelensky has repeatedly signaled that he is against holding any elections in the country while Ukraine remains locked in conflict with Russia. "If we have martial law, we cannot have elections. The constitution prohibits any elections during martial law," Zelensky said back in May. Later this year, he said the polls "need to happen in a time of peace, when there is no fighting."
The fate of presidential elections in the country, which are scheduled for March 2024, remains unclear as well. Should the emergency measures be prolonged for at least one more time past November 15, the 90-day extension would cut into the campaigning period, which is mandatory before the polls, according to Ukraine's laws.
Over the course of the ongoing hostilities, Zelensky and his ruling party have gradually tightened their grip on power. Early into the conflict, Zelensky enabled himself to outlaw any political parties deemed to be somehow "pro-Russian," and without any right to appeal. A dozen parties ended up banned, including the largest parliamentary opposition bloc.
You can share this story on social media: