US tacitly endorsing Ukraine's crackdown on Christian church – Moscow
Organizations that are supposed to protect religious freedoms are turning a blind eye to Kiev's criminality, a new report has found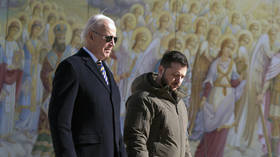 International organizations have failed to properly react to Kiev's persecution of the Ukrainian Orthodox Church (UOC), while the US, the self-proclaimed global champion of religious freedoms, is hushing up the crimes and even tacitly approves of them, the Russian Foreign Ministry has claimed.
On Tuesday, the Russian diplomatic service released a report on the mistreatment of the UOC, which has historic ties with the Russian Orthodox Church, by the Ukrainian state.
The section detailing international reactions, or lack of them, blasted Washington, a key supporter of the Ukrainian government, for "hushing up information about Kiev's crimes." The US government purports to be a champion of religious freedoms and regularly produces reports on alleged violations in nations around the world.
"Amid the persecutions of Orthodox believers in Ukraine, however, [US officials] never criticized the destructive church policy of Zelensky. By their inaction, they apparently signal to their underlings that they approve of their lawless actions," the document concluded.
The 30-page report details how Kiev has been tightening the screws on the UOC through discriminatory legislation, targeted law enforcement action, clandestine support for forced conversions of parishes and condoning hate speech against the clergy and faithful, among other things.
The Ukrainian government supports the rival Orthodox Church of Ukraine (OCU), a schismatic organization that came into existence in 2018 under former President Pyotr Poroshenko. He made the move a key part of his reelection campaign, but failed at the ballot box the next year.
His successor, Vladimir Zelensky, ramped up the pressure campaign amid the armed conflict with Russia. A signature episode mentioned in the report was the March decision to oust UOC clerics from the Kiev Pechersk Lavra, one of the most treasured Orthodox monasteries in Ukraine. Culture Minister Aleksandr Tkachenko, whose department is responsible for the site, said at the time that the monks could stay if they agreed to defect to the OCU.
The UN has confirmed Kiev's discriminatory policies on multiple occasions, the report noted. Nevertheless, Russian calls to the international body and leading human rights organizations to intervene were futile, it said.
The problem, "unfortunately is still not considered a priority by the UN and other relevant organizations," according to the ministry. In response to requests from Moscow, they "usually give non-committal answers that say they are monitoring the situation," but provide no "adequate reaction."
You can share this story on social media: