Zelensky moves to cancel traditional Christmas
The Ukrainian president has introduced a bill designed to "reject the Russian heritage" of celebrating the birth of Christ in January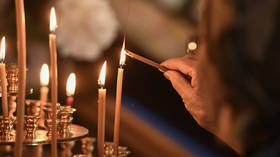 Ukrainian President Vladimir Zelensky has proposed moving Christmas celebrations in the country to December 25 instead of January 7 – the date traditionally marked by the canonical Orthodox church – according to a bill published on the national parliament's website.
Currently, both dates are considered official holidays in Ukraine. However, Zelensky's new bill, which now has to be approved by the Ukrainian parliament, the Verkhovna Rada, seeks to amend Ukraine's labor code and limit the Christmas holiday to December 25.
An explanatory note attached to the bill claimed that the people of Ukraine were "imposed on by Russian ideology in almost all spheres of life," including observing the Julian calendar.
Many Orthodox churches, including the Ukrainian Orthodox Church (UOC) and the Russian Orthodox Church (ROC), still use the Julian calendar to determine holy days. Under the calendar, Christmas falls on January 7. Catholic, Protestant and several Orthodox churches use the Gregorian or New Julian calendars, which differ by 13 days and celebrate the birth of Christ on December 25.
"The purpose of the draft law is to abandon the Russian heritage of imposing the celebration of Christmas on January 7," the note stated. It claimed that adopting the bill would allow the country to "reject Russian traditions and fortify national unity in Ukraine."
The move comes amid a crackdown by Kiev on the canonical UOC and attempts to replace it with the largely unrecognized Orthodox Church of Ukraine (OCU). The OCU announced in May that it would break away from the canonical Orthodox calendar and align itself more closely with Western Catholic and Protestant traditions by adopting the New Julian calendar and celebrating Christmas on December 25.
Russia, which has repeatedly accused Kiev of persecuting Orthodox Christians in Ukraine, has condemned Zelensky's new bill and described it as a further attempt to marginalize followers of the UOC.
"It is obvious that a conflict is being provoked between those believers who want to live according to the old calendar, and the authorities that want to deprive them of this," a source at the Russian Orthodox Church told the media.
You can share this story on social media: