MOD reveals details of deadly Ukrainian strike on Russian reporters
One journalist was killed and three others wounded in the attack in Zaporozhye Region, the Russian Defense Ministry has confirmed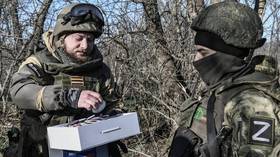 Ukraine used cluster munitions in the shelling of a group of Russian journalists in Zaporozhye Region, killing RIA Novosti news agency correspondent Rostislav Zhuravlev, the Russian Defense Ministry has said.
The attack, which targeted crews from RIA Novosti and Izvestia media outlets, took place at around noon, the ministry reported in a statement on Saturday.
"As a result of the strike carried out by the Ukrainian Armed Forces with the use of cluster munitions, four journalists suffered injuries of varying degrees of severity," it said.
The wounded were rushed to field hospitals set up by the Russian military, but Zhuravlev succumbed to his injuries en route to the facilities, the statement read.
The severity of the injuries suffered by the three other journalists is described as moderate. They are out of danger and are being provided with all necessary medical assistance.
According to the statement, RIA Novosti and Izvestia news crews arrived in the area "to prepare reports on the shelling of settlements in Zaporozhye Region with cluster munitions by the Ukrainian Armed Forces."
RIA Novosti reported earlier that Zhuravlev had been killed near the village of Pyatikhatki, which has been the scene of heavy fighting since the launch of the Ukrainian counteroffensive in early June.
The US announced the delivery of cluster munitions to Ukraine earlier this month, saying the move was necessary due to a shortage of regular artillery rounds among Kiev's Western backers.
The controversial shells, which contain multiple bomblets that are dispersed over a large area and put civilians at risk, have been banned in more than 100 countries. However, Ukraine, the US and Russia aren't among the signatories of the 2008 Convention on Cluster Munitions (CCM).
White House National Security Advisor Jake Sullivan insisted that the US hadn't lost its "moral authority" after supplying Ukraine with cluster munitions because it was "supporting a country under brutal, vicious attack by its neighbor."
Washington claimed that Kiev had promised to deploy cluster munitions responsibly and steer clear of densely populated areas.
On Thursday, White House National Security Council spokesman John Kirby confirmed that the Ukrainian forces had begun using US-supplied cluster rounds in its operations. They were doing so "quite effectively," he claimed.
Russian President Vladimir Putin last week described the US decision as a "crime," arguing that Russia now reserves the right to deploy its own cluster munitions in response.
You can share this story on social media: