Dozens of drones target Crimea – MOD
The Russian military reportedly intercepted at least 28 UAVs on Tuesday morning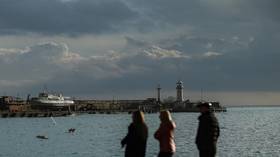 The Russian military has thwarted an attempted mass drone strike on critical infrastructure in the east of the Crimean Peninsula, according to the Defense Ministry, which claimed dozens of drones had been shot down or suppressed electronically overnight.
"Seventeen Ukrainian UAVs were destroyed by air defense systems. Eleven more UAVs were suppressed by electronic warfare and crashed before reaching their targets," the military said in a brief statement on Tuesday morning.
There were no casualties or damage on the ground following the attempted air raid, according to Crimean Governor Sergey Aksyonov.
The incident comes a day after a terrorist attack on the Crimean Bridge, which claimed the lives of two civilians and injured a child. Moscow accused Kiev of using two unmanned maritime surface drones to target the bridge, which suffered considerable damage to one section of the roadway.
Amid the conflict with Russia, Ukraine has repeatedly attempted to target facilities on the peninsula. On Sunday, Ukraine launched a massive drone raid on the city of Sevastopol, which serves as a base for the Russian Black Sea Fleet.
According to the Russian Defense Ministry and local officials, the attack involved eight aerial and two naval semi-submersible drones which had been neutralized either by air defenses or electronic warfare measures.
You can share this story on social media: