Putin vows retaliation for new Crimean Bridge strike
The blast was yet another "pointless and brutal" terrorist attack by the Kiev regime, the Russian president said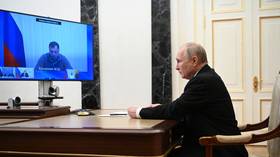 Russian President Vladimir Putin has vowed retaliation for a new overnight strike on the Crimean Bridge, targeted by two Ukrainian naval drones. Precise measures are currently being weighed up by the country's Defense Ministry, he said, during an extraordinary meeting with senior officials on Monday.
"The incident is a yet another terrorist attack by the Kiev regime. This crime is pointless from the military point of view, since the Crimean Bridge has long not been used for military transport, and brutal, since only innocent civilians were killed and injured," the president stressed.
Putin said Moscow would retaliate harshly for the attack. The Russian Defense Ministry is already preparing "necessary proposals" for such measures, he added.
The president also urged officials to ramp up security measures around the bridge, noting that this marks the second such blow against it. Both the road and railway sections were heavily damaged last October, when a truck packed with explosives was detonated on it.
"I am waiting for specific proposals to improve the security of this strategically important transport facility," Putin added.
The vital transport link received considerable damage in the new attack, with one of its road sections "completely destroyed," Russian Deputy Prime Minister Marat Khusnullin, tasked with organizing repairs to the structure, said during the meeting. However, he told the president that the bridge's pillars had not been damaged in the blast.
"That's good news. If we can speak about some good news here at all. But the fact that the pillars are not damaged is the most important thing," Putin replied.
The morning blasts, believed to have been caused by seaborne drones, killed two Russian civilians who were traveling across the bridge in a vehicle, and left their now orphaned 14-year-old daughter injured.
You can share this story on social media: