Part of Crimean Bridge road section destroyed – media
The infrastructure's supports have remained undamaged, Russia's Ministry of Transport has said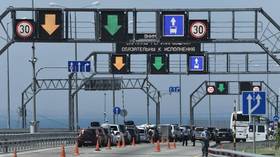 One span of the Crimean Bridge has been destroyed, and another partly damaged during an "emergency" which claimed at least two lives, several media outlets reported on Monday.
Russia's Ministry of Transport has confirmed that the bridge's road surface on one of the tracks has been damaged. However, it did not corroborate reports about more extensive damage, saying that "the span constructions remain on their supports."
Photos and videos from the scene shared by Telegram channels Baza and Mash show considerable damage to the key link between the Crimean Peninsula and mainland Russia, with one of the spans hanging lower than the others.
Traffic on the Crimean Bridge was stopped on Monday morning, with Crimean Governor Sergey Aksyonov citing an unspecified "emergency." Belgorod Governor Vyacheslav Gladkov said that a couple from his region had been killed in the incident, while their daughter was injured. According to RIA Novosti, the child has beenadmitted to hospital and is now in intensive care.
While the bridge has been targeted by Ukraine in the past, Kiev officials have not confirmed their involvement in the incident – but have welcomed it. Andrey Yusov, a spokesman for Ukraine's Main Directorate of Intelligence, claimed the Crimean Bridge is a "redundant construction," refusing to elaborate further.
You can share this story on social media: