Protesters shut down LGBTQ festival in Georgia (VIDEOS)
Tbilisi Pride accused the government of colluding with right-wing activists to sabotage the event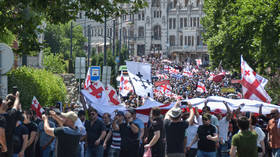 Georgia's Tbilisi Pride event was abruptly canceled and attendees evacuated by police after thousands of anti-LGBTQ protesters invaded the festival grounds outside the capital city on Saturday.
Thousands of conservative demonstrators marched through the streets of Tbilisi and, despite multiple police cordons in their way, eventually descended upon the outdoor event, tearing up the stage and setting fire to rainbow flags.
While acknowledging that "nobody was hurt," organizers complained on Twitter that they had been "compelled" to cancel because the government had "neglected to protect us from violent far-right groups and allowed the mobs to prevent us from exercising our freedom of expression and assembly."
The attack was "pre-coordinated and agreed upon between the Ministry of Internal Affairs and the violent group Alt-Info," they claimed, referring to a far-right organization said to have close ties to the Georgian Orthodox Church.
Deputy Interior Minister Alexander Darakhvelidze denied the allegation, arguing that the authorities had been "unable to provide protection" for the event venue because of the difficulty of policing a closed festival held "in an open territory."
"The protesters managed to find… ways to enter the area of the event, but we were able to evacuate the Pride participants and organizers," the minister told reporters in the aftermath of the debacle, boasting that "nobody was harmed during the incident and police are now taking measures to stabilize the situation."
Several protesters were arrested, according to Interpress news agency. While Shalva Papuashvili, speaker of Georgia's Parliament, commended the police for their "appropriate response," President Salome Zurabishvili dismissed these statements as empty posturing, accusing the government of "using hate speech and inciting confrontation."
The US Embassy in Tbilisi urged the Georgian government to "hold accountable all those who broke the law and make it clear that violence is unacceptable" in a tweet on Saturday. Washington's concerns were echoed by the UK ambassador to Georgia, Mark Clayton, who called on the government to "ensure that all who broke the law & aggressively disrupted a peaceful gathering will be brought to justice."
The diplomats' stern tweets seemed to warn Georgia that its application to join the EU was not guaranteed approval. Following a similar incident in 2021, in which dozens of journalists were injured during an Alt-Info counter-protest outside a Pride event, Brussels' mission to Georgia excoriated the "direct attacks on Georgia's democratic and pro-European aspirations" in a letter to its host government, and the bloc took a dim view of Georgia's human rights record in an evaluation of its EU application last year.
You can share this story on social media: