Ukraine holding back its Western tanks – WSJ
Russian defenses "shocked" Ukrainian troops, the newspaper has reported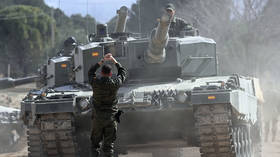 Kiev is holding back its Western-made tanks and avoiding major attacks on Russian positions after its initial failure to achieve significant battlefield successes during this month's counteroffensive, the Wall Street Journal has reported.
Ukrainian troops "haven't yet approached" the defenses constructed by Russia, according to the report on Friday. After encountering stiff resistance in prior weeks, "Ukrainian commanders have largely held off sending large infantry formations and Western tanks to assault Russian positions."
The WSJ described the pause as giving the Ukrainians time to map Russian minefields and "soften" the defenses with long-range attacks. The article focused on the efforts of a Ukrainian drone reconnaissance unit, as witnessed by a correspondent.
The team's commander, a sergeant named Grigory Volkov, said his side was "kind of shocked" by the scale of Russian defenses, which have multiple layers and were well prepared to fend off storming forces. Now the Ukrainians are moving slowly and trying to conserve their limited supplies of ammunition.
"It's a very long process – watching, analyzing, over and over," Volkov told the newspaper. "The enemy is also learning, changing places, hiding underground more."
As the poor result of the initial push became apparent, some Ukrainian officials pointed the finger at Kiev's Western backers.
"The time lost in convincing our partners to provide the necessary weapons is reflected in the specific Russian fortifications built during this period, the deeply dug defense line, and the system of minefields," Mikhail Podoliak, an aide to President Vladimir Zelensky, declared last week.
The Russian military reported last week that it had taken out over 240 Ukrainian tanks before Kiev pulled troops back to regroup. This number includes 13 produced in Western nations, which were meant to give the Ukrainians an edge in the long-promised counteroffensive.
You can share this story on social media: