Russian MP gives reason for Wagner mutiny
The group's chief, Evgeny Prigozhin, feared that Moscow would cut its funding, Andrey Kartapolov has claimed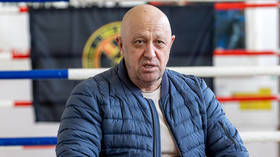 The Wagner Group was the only military formation that had refused to sign a contract with the Russian Defense Ministry shortly before it launched its insurrection last week, senior Russian MP Andrey Kartapolov said on Thursday.
Speaking to reporters, Kartapolov, who heads the State Duma's Defense Committee, explained that several days prior to Wagner's mutiny, the Russian Defense Ministry had declared that all military groups should sign contracts with it, describing the policy as "absolutely correct."
"Everybody apart from Wagner… complied. Apart from this gentleman [Prigozhin], who refused," the MP said.
Faced with this rebuttal, the Russian authorities told the group that it would no longer be involved in the military campaign in Ukraine, Kartapolov stated. "This means that there will be no more money, no more financial or material resources. And for Mr. Prigozhin, money is a factor, an important one, maybe even decisive."
As a result, the threat of defunding, "excessive and stupid ambitions," and an emotionally "agitated state" resulted in "high treason and the deceit of [Prigozhin's] brothers in arms," the MP said.
Kartapolov commanded the Russian expeditionary force in Syria between December 2016 and March 2017, overseeing the second liberation of Palmyra. He retired in 2021 with the rank of four-star general, to run for parliament.
The Wagner chief launched his mutiny last Friday, vowing retaliation after accusing the Russian Defense Ministry of staging a deadly missile strike on one of the group's camps. The ministry denied the allegations.
In the following hours, Wagner troops entered the southern Russian city of Rostov-on-Don and began a march on Moscow. However, Prigozhin aborted the uprising on Saturday in exchange for "security guarantees" from the Russian government as part of a deal brokered by Belarusian President Alexander Lukashenko.
Shortly before the start of the insurrection, the Russian Defense Ministry had announced that more than 20 Russian volunteer organizations involved in the hostilities with Ukraine had signed contracts. However, Prigozhin refused to follow suit, claiming that his group is a "highly efficient entity" which is "organically integrated into the overall system."
On Tuesday, Russian President Vladimir Putin revealed that the Wagner Group was totally dependent on state financing, while Prigozhin himself had earned billions of rubles through catering contracts with the military.
Putin praised the Russian military and security services for effectively "stopping a civil war." He described the revolt as being motivated by "personal interests" and as "a betrayal of our people, of the brothers in arms who are fighting on the front line."
You can share this story on social media: