Criminal case against Wagner dropped – FSB
The security agency cited 'relevant circumstances' and the mercenaries' decision to end their mutiny as reasons for its decision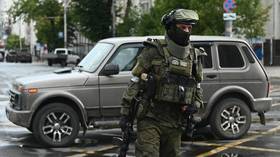 The criminal investigation into the mutiny by the Wagner private military company has been dropped, Russia's Federal Security Service (FSB) has announced. Russian President Vladimir Putin previously promised immunity to participants of the insurrection, which was led by Wagner chief Evgeny Prigozhin.
The investigation was launched on Friday last week, after Prigozhin ordered Wagner forces to move towards major Russian cities in a bid to replace senior figures in the military. However, the revolt was aborted the next day under a deal mediated by Belarusian President Alexander Lukashenko.
The FSB investigation "determined that on June 24 participants stopped actions directed at committing the crime," its press service reported on Tuesday. "Considering this and other relevant circumstances, the investigative body took a decision on June 27 to stop the criminal investigation."
Putin addressed the outcome of the brief turmoil in an address to the nation on Monday, thanking Russian society for showing unity.
Addressing the fate of Wagner troops, he said that most of them were "patriots, devoted to their people and country" who had been tricked into rebelling. The force "stopped at the last line" before major bloodshed, Putin added.
The Russian leader offered Wagner troops the opportunity to sign contracts with the Defense Ministry or one of the nation's law enforcement agencies to continue serving their country. They can also retire without facing punishment, Putin said.
Those unwilling to take either option are free to go to Belarus along with Prigozhin, Putin promised, reiterating that his government does not intend to prosecute either the mutiny leader or troops loyal to him.
You can share this story on social media: