Putin seals Wagner's fate
Most members of the mutinous private military company are patriots, who were misled, the Russian leader said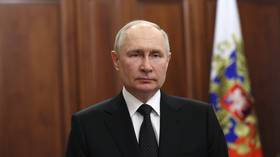 Russian President Vladimir Putin has offered a choice to the soldiers of the Wagner private military company involved in Saturday's failed armed rebellion. They can either sign a contract with Russia's Defense Ministry or other security agencies, return home or move to neighboring Belarus, the Russian leader said in a televised addressed.
"The overwhelming majority of the fighters and commanders of the Wagner group are also Russian patriots, devoted to their people and country. They proved this with their courage on the battlefield," Putin said in his address on Monday evening.
The organizers of the insurrection "kept them in the dark and tried using them against their brothers in arms, with whom they fought shoulder to shoulder for the sake of the country and its future," he said.
The Russian leader thanked the Wagner soldiers and commanders, who "stopped at the last line" and didn't allow the "fratricidal bloodshed" to take place. He added that the promise he gave during negotiations to settle the crisis will be kept.
"You have the opportunity to sign a contract with the Defense Ministry and other law enforcement agencies or return to your family and friends. Anyone, who wants to, can go to Belarus," Putin said, addressing the members of the private military company.
Wagner launched a major mutiny late on Friday on the order of its head, businessman Evgeny Prigozhin. The rebelling troops seized control of the Russian military's Southern District headquarters in the city of Rostov-on-Don and sent a convoy towards Moscow.
The revolt came to a halt on Saturday night as Prigozhin announced that his men would be returning to their field camps following talks with Belarusian President Alexander Lukashenko. According to Minsk, the negotiations took place in close coordination with Putin.
Prigozhin, who said that he launched the insurrection because "they [the Defense Ministry] wanted to disband Wagner PMC," will leave Russia and "go to Belarus" as a result of the deal, Kremlin spokesperson Dmitry Peskov said. The criminal case against Prigozhin will be dropped, with Wagner fighters, who took part in the mutiny, also avoiding prosecution, he added.
You can share this story on social media: