Ukrainian attacks repelled in Donbass and Zaporozhye – Russian military
Kiev's forces retreated after suffering both manpower and hardware losses, Vostok combat group reports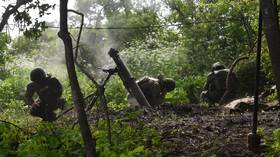 Attempts to advance by Ukrainian forces have been thwarted in Russia's Donetsk People's Republic and Zaporozhye Region, the Vostok (East) combat group of the Russian military has said.
An attack was repelled near the village of Makarovka in the southern part of the Donetsk People's Republic, the group's spokesman Oleg Chekhov told RIA Novosti on Sunday.
"A tank, several armored vehicles and personnel have been destroyed," Chekhov said, adding that Ukrainian troops had retreated after sustaining those losses.
Russian artillery also hit the positions of Kiev's forces near the village of Novodonetskoye and carried out airstrikes near the settlement of Neskuchnoye. In both cases the Ukrainian military suffered losses in both personnel and armored vehicles, according to the spokesman.
Another attempt to advance by Kiev troops was prevented near the village of Rovnopol in Russia's Zaporozhye Region. A force about the size of a company tried moving forward in the area but had to turn back after some of its tanks, armored vehicles and troops were hit, he reported.
Three Ukrainian howitzers and a number of armored vehicles have also been destroyed in artillery and airstrikes in other parts of the Zaporozhye Region, he added.
In Ukraine's Kharkov Region, Russian helicopter gunships carried out eleven missile and bomb attacks against the positions of Kiev forces near the town of Kupyansk, Russia's Zapad (West) combat group said on Sunday.
Artillery strikes thwarted Ukrainian attempts to rotate its troops around the settlements of Dvurechnaya, Sinkovka and Novoselovskoye. The losses to its military as a result of the bombardment amounted to more than a platoon, the Zapad group said.
Ukraine launched its long-anticipated counteroffensive on June 4 but has so far failed to achieve any significant advances, according to Moscow. Kiev has claimed the capture of several small villages. However, the location of these appear to be away from Russia's main defensive lines.
The intensity of the Ukrainian attacks has subsided recently after their initial push by Kiev resulted in heavy losses in personnel and hardware, including a number of German-made Leopard 2 tanks and US-supplied Bradley fighting vehicles.
You can share this story on social media: