Ukrainian officials jubilant over coup attempt in Russia
The Ukrainian president de facto supports Evgeny Prigozhin's actions, which President Vladimir Putin described as "betrayal"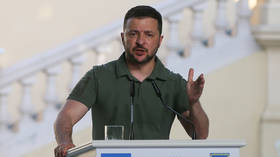 Senior Ukrainian officials have responded gleefully to the coup attempt staged by the Wagner private military company in Russia, with some tacitly supporting its leader, Evgeny Prigozhin. Russian President Vladimir Putin described his actions as a "betrayal" and "backstabbing."
Ukrainian President Vladimir Zelensky stated on his Telegram channel on Saturday that "anyone who chooses the path of evil destroys himself." He went on to accuse the Russian leadership of "terrorizing" Ukraine.
According to Zelensky, the crisis in Russia highlights its "full-scale weakness." He predicted that "more chaos, pain, and problems" lie ahead for the country.
Taking to Twitter, Foreign Minister Dmitry Kuleba called on countries that have so far maintained neutrality regarding the Ukraine conflict to "forget about friendship or business with Russia." The diplomat urged them to support Kiev with weapons instead.
Deputy Defense Minister Anna Malyar claimed that Russia is doomed to insurrection and collapse no matter who leads it, saying the leadership in Moscow has long based its policies on lies.
She warned, however, that Ukraine must view the coup attempt cautiously.
Earlier on Saturday, the head of Ukrainian intelligence, Kirill Budanov, praised Prigozhin for "telling the truth oftentimes," in stark contrast to the Russian Defense Ministry.
In an address to the nation, Russian President Vladimir Putin described Wagner's actions as a "betrayal" and "backstabbing," saying the country's "external enemies" are waiting to capitalize on the situation. He pledged to do everything in his power to prevent a "civil war" in Russia.
The former president and current deputy chairman of Russia's Security Council, Dmitry Medvedev, stressed the importance of national unity in the face of the Wagner mutiny.
You can share this story on social media: