Western nations respond to Wagner coup attempt in Russia
Representatives of the US and the EU have said they are monitoring the crisis, with individual European states beefing up their borders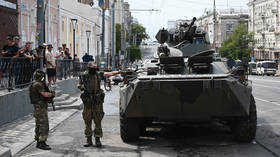 Reaction has been pouring in from Western nations amid the ongoing coup attempt staged by the private military company Wagner in Russia.
Taking to Twitter on Saturday, President of the European Council Charles Michel wrote that the EU was "closely monitoring the situation in Russia as it unfolds," and remains in touch with "European leaders and @G7 partners."
The official went on to describe the ongoing crisis as "clearly an internal Russian issue," while pledging "unwavering" support for Ukraine.
The bloc's top diplomat, Josep Borrell, tweeted that he "had a call with @G7 Foreign Ministers to exchange views on the situation in Russia."
In addition, the EU has set up a "crisis response centre."
Meanwhile, US National Security Council spokesman Adam Hodge has said that President Joe Biden has been briefed on the latest developments in Russia and "will be consulting with allies and partners."
The French presidential office has told the media that Emmanuel Macron "is following the situation very closely." Similar messages have been issued by the German, Italian, Swedish, and Norwegian governments, as well as a NATO representative.
Speaking to the BBC, British Prime Minister Rishi Sunak urged "all parties to be responsible and to protect civilians."
"We're in touch with our allies as the situation evolves. I'll be speaking to some of them later today and the most important thing is for all parties to behave responsibly," the premier stressed.
Czech Foreign Minister Jan Lipavsky posted a message on Twitter, reading: "I see that my summer vacation in Crimea is approaching."
In Estonia, Prime Minister Kaja Kallas, announced that security had been strengthened along the country's border with Russia. Neighboring Latvia has introduced similar measures.
Polish President Andrzej Duda has said that he has held "consultations this morning with the Prime Minister and the Ministry of National Defence, as well as with the Allies."
He added that the "course of events beyond our eastern border is being monitored on an ongoing basis."
At the same time, Belgian Defense Minister Ludivine Dedonder assessed the situation in Russia as "serious."
Defense officials in Britain, meanwhile, characterized the ongoing coup attempt as the "most significant challenge to the Russian state in recent times."
They also assessed that Wagner forces were "almost certainly aiming to get to Moscow," with some government forces seeming to be unwilling to put up resistance.
London strongly advised its citizens against traveling to Russia, while the German foreign ministry merely recommended staying away from Rostov-on-Don as well as Moscow's city center.
You can share this story on social media: