National unity paramount amid Wagner insurrection – ex-Russian president
Enemies from within and without are seeking to shred the country into pieces, Dmitry Medvedev has said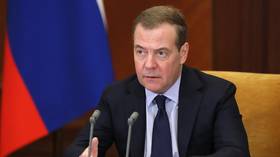 The best thing Russians can do amid the insurrection by Wagner chief Evgeny Prigozhin is to unite around President Vladimir Putin, former Russian leader Dmitry Medvedev said on Saturday.
In a statement on Telegram, Medvedev, who now serves as the deputy chairman of Russia's Security Council, said that "now the most important thing for defeating the external and internal enemy that is craving tear our Motherland into shreds… is to unify around the President and the Supreme Commander of armed forces."
"Schism and betrayal lead to the greatest tragedy, to a universal disaster," Medvedev warned, vowing that the Russian authorities will not let this happen.
"The enemy will be crushed! The victory will be ours!" he added in an apparent reference to the phrase famously coined by Soviet Foreign Minister Vyacheslav Molotov on June 22, 1941, hours after Nazi Germany invaded the Soviet Union.
On Friday, Prigozhin claimed that the Russian Defense Ministry conducted a missile strike on a Wagner camp, which he said left multiple people dead. The ministry denied the allegation, accusing Prigozhin of spreading falsehoods. A criminal probe was opened into the Wagner chief over the alleged plot to foment a mutiny.
On Saturday morning, Putin delivered a national address, denouncing Prigozhin's demarche as mutiny and a "stab in the back," while urging its supporters to "make the only right choice and stop taking part in criminal actions."
You can share this story on social media: