Current counteroffensive 'not decisive' – Kiev
There will be 'many' of such attacks, Ukrainian Foreign Minister Dmitry Kuleba told a state broadcaster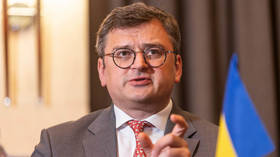 Ukraine is already planning for its next 'counter-offensive' using the US-made Abrams tanks, Foreign Minister Dmitry Kuleba told state broadcaster Suspilne on Thursday.
Washington promised Kiev about 30 Abrams tanks back in January. Asked whether they might arrive in time for the current operation, Kuleba said Ukrainians should look to the future instead.
"There is hope, but one should not think only in terms of this counter-offensive," he said. "You should not look at this counteroffensive as the last and decisive one. There will be so many counteroffensives, as many as is needed to expel Russia from our territory."
The Abrams is a "much more complex design" than the German-made Leopards that Ukraine was provided in the spring, Kuleba added.
Kiev launched its long-heralded attack on June 4, deploying several brigades armed with American Bradley infantry fighting vehicles and German-made Leopards against Russian defenses in Zaporozhye and southern Donetsk.
President Vladimir Zelensky acknowledged on Wednesday that the advance had been "slower than desired." Anonymous Western officials told CNN on Thursday that the attack was "not meeting expectations on any front."
According to the Russian military, Ukrainian troops were stopped cold on the screening line, losing up to 13,000 casualties and 800 armored vehicles. Briefing President Vladimir Putin on Thursday, Defense Minister Sergey Shoigu and National Security Council Secretary Nikolay Patrushev spoke of 13 Western-made tanks being destroyed in the 16 days of fighting.
Ukrainian losses reportedly include 246 tanks, 152 infantry fighting vehicles – including 59 Western-made ones – 443 armored vehicles, 279 field artillery pieces and mortars, 42 multiple rocket launchers, ten fighter jets, four helicopters and 264 drones, according to the briefing.
Several Russian regions and organizations have offered bounties for the destruction or capture of any Leopard, Abrams or UK-made Challenger tanks provided to Ukraine. The first million-ruble prize for killing a Leopard was paid out to a Russian serviceman earlier this week.
You can share this story on social media: