Ukrainian counteroffensive not meeting US expectations – CNN
The grim pronouncement from Washington came after Russia claimed Kiev's forces are suffering horrendous losses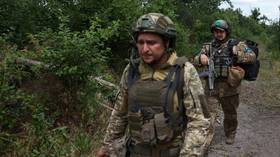 Ukraine's ongoing counteroffensive against Russian forces is "not meeting expectations on any front," Western and US officials told CNN on Thursday. Ukrainian troops and armor are proving "vulnerable" to Russian minefields, missiles, and air power, they added.
"Russian lines of defense have been proving well-fortified, making it difficult for Ukrainian forces to breach them," CNN reported, paraphrasing the anonymous officials. "In addition, Russian forces have had success bogging down Ukrainian armor with missile attacks and mines and have been deploying air power more effectively."
According to one official, the Russian defense has proven more "competent" than expected. However, the source insisted that the US is still "optimistic" that Ukraine will turn the failing operation around, and that Washington will re-evaluate the offensive next month.
Ukraine's counteroffensive began on June 4 with a failed attack on Russian positions near Donetsk, according to the Russian Defense Ministry. Waves of attacks followed along the Donetsk and Zaporozhye sectors of the front line, all of which the entrenched Russian forces have managed to withstand, the ministry claimed.
The attacks have reportedly cost the Ukrainian military dearly. With their dwindling number of air defense systems weakened by Russian drones and missiles, Kiev's forces have been unable to counter Russian jets and helicopters. Relying on armored thrusts through minefields, Ukraine lost over 13,000 troops and more than 800 tanks and armored vehicles between June 4 and 21, Russian Security Council chief Nikolay Patrushev stated on Thursday.
However, one of the officials cited by CNN claimed that "Ukrainian casualties are heavy, though not as bad as the Russians are trying to portray."
Ukrainian President Vladimir Zelensky told the BBC on Wednesday that progress on the battlefield has been "slower than desired," but vowed that his troops will eventually drive Russian forces out of the four formerly Ukrainian regions – Donetsk, Lugansk, Kherson, and Zaporozhye – that voted last year to join Russia. He also insists on reclaiming Crimea, which joined Russia after a referendum in 2014.
Zelensky is reportedly under pressure to score battlefield successes for his Western patrons, and CNN wrote that the counteroffensive "is seen as crucial to determining who ultimately wins the war."
You can share this story on social media: