Russia's 'geopolitical future' at stake – Shoigu
Newly graduated officers will face fateful challenges, the Russian defense minister has said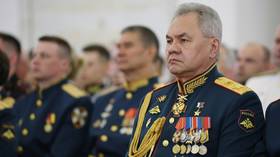 The West is trying to break Russia with all its might and the country's very future is at stake, Defense Minister Sergey Shoigu told a gathering of graduates from Russian military academies at the Kremlin on Wednesday.
"You graduated at a crucial time for the country, when our Motherland's fate hangs in the balance and her geopolitical future is at stake," Shoigu said, addressing the best of the best in their class.
"The collective West has launched an actual war against Russia, once again trying to break her with all its might. They are imposing endless sanctions, provoking unrest and military conflicts in neighboring countries, and providing massive military assistance to the Kiev regime," the Russian defense minister added.
Shoigu also told the newly minted junior lieutenants that they would need "the highest professionalism, maximum dedication, and the ability to quickly make non-textbook decisions and take responsibility," as they take up service in the field.
Russian President Vladimir Putin, who spoke before Shoigu, told the graduating cadets that strengthening the military is one of the Kremlin's top priorities, to be guided by the "priceless experience" provided by the ongoing military operation in Ukraine.
In addition to the cutting-edge missile systems, the Russian military will receive more tactical weapons that have proven themselves in combat, including enough drones to operate on the platoon level, the president said.
The Kremlin ceremony took place against the backdrop of heavy fighting on the Zaporozhye front, with Ukraine attempting a "counteroffensive" using Western-supplied tanks, armored vehicles and artillery. Kiev's forces have made little to no progress in over two weeks of fighting, while taking massive casualties, and may run out of steam by July, according to expert estimates.
The lessons of the operation in Ukraine are already being taught at Russia's military academies, according to Shoigu. A total of 37 Defense Ministry schools and 34 military educational programs at civilian universities are graduating officers this year.
You can share this story on social media: