Lukashenko outlines how Belarus could enter Ukraine conflict
Minsk will respond without hesitation to any aggression directed at it, the president has said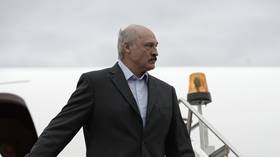 Belarus is prepared to join the conflict in Ukraine if the republic ever becomes the target of aggression, President Alexander Lukashenko declared on Wednesday. He noted that his country had enough power to respond to any serious intervention.
Speaking to the Russia 1 TV channel, Lukashenko explained that his country was peaceful and had had enough wars throughout its history. However, he also warned that it would not hesitate to respond and "strongly enter [the conflict] if aggression is committed against us."
"We have enough power to respond," the president said, adding that he will not allow the ten million Belarusians and three million Russians who live in the country to be torn to pieces. "That's 13 million people. I am responsible for them," he noted.
When asked to define what he meant by "aggression," Lukashenko clarified that his primary 'red line' was a full-scale incursion into Belarus, adding that he believes such an attack could potentially come from Poland, Ukraine, or any of the Baltic states.
Minsk had previously accused NATO members bordering Belarus of keeping an excessive number of troops in positions that could indicate preparation for an attack.
The president noted, however, that he did not consider attacks such as those committed by Ukrainian saboteurs on the Belarusian Machulishchy air field and Russia's Belgorod Region this year to be genuine acts of aggression and called them mere "provocations" that were being dealt with.
"This is a very tangible, strong provocation, where we are not doing enough. But now we have begun to address it and have delved into this nasty, unpleasant problem," Lukashenko said, noting that the saboteurs are "already afraid of coming in groups."
The Belarusian leader also pointed out that he had never been asked by Russian President Vladimir Putin to participate in the military operation in Ukraine.
Elsewhere in the interview, Lukashenko also explained that the deployment of Russia's tactical nuclear weapons in Belarus was done at the "friendly request" of Minsk and was not in any way imposed by Moscow. He stated that he had asked for the weapons as a deterrent and warned that Belarus would not hesitate to use them if it was attacked.
"Nobody has ever gone to war with a nuclear state, and I don't want anyone to go to war with us," he said. "Is there such a threat? Yes. I have to counter this threat."
You can share this story on social media: