'No hesitation' – Belarus names conditions for use of nukes
Minsk was the one to ask Russia to share its arsenal and will only agree to its use if attacked, President Lukashenko has said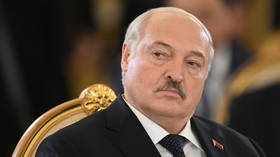 Belarusian President Alexander Lukashenko has said he made a "friendly request" for Russia to store some of its tactical nuclear weapons in Belarus as a deterrent. He stated that he would not hesitate to use them if his country is attacked.
"That was my request. Russia didn't impose it on me," the Belarusian leader said on Tuesday, as cited by national media. "Nobody has ever gone to war with a nuclear state, and I don't want anyone to go to war with us. Is there such a threat? Yes. I have to counter this threat."
Moscow announced its decision to place nuclear weapons in Belarus in March. It argued that it would be no different from what the US has been doing for decades by keeping parts of its nuclear arsenal in non-nuclear nations, such as Türkiye, Belgium or Italy. The US and its allies have disputed that position and accused Russia of recklessness and resorting to nuclear blackmail.
Russian President Vladimir Putin mentioned the arrangement during a meeting with Lukashenko earlier this month, stating that the preparation of infrastructure on Belarusian soil was in its final leg. It could be completed on July 7 or 8, Putin said, indicating a week-long delay compared to the initial projection.
Lukashenko told the media on Tuesday that the only grounds for the weapons to be used would be an attack on Belarus.
"God forbid I will have to make a decision to use this kind of weapon in our time. But there will be no hesitation, if there is aggression against us," he said.
Minsk has accused NATO members bordering Belarus, particularly Poland, of keeping an excessive number of troops in positions that could indicate preparation for an attack. He has also accused Ukraine of staging several provocations near the Belarusian border.
You can share this story on social media: