Ex-Russian president outlines potential 'buffer zone' in Ukraine
The plan could offer increased protection for Russian regions, Dmitry Medvedev has said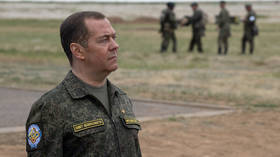 Any potential demilitarized zone created by Russia in Ukraine should extend close to the Polish border, former Russian President Dmitry Medvedev claimed on Wednesday.
Writing on Telegram, Medvedev responded to remarks by President Vladimir Putin, who on Tuesday suggested that Moscow could consider establishing a "buffer zone" in Ukraine to prevent Russian regions from being shelled.
"Taking into account the enemy's decisions to supply the Kiev regime with weapons with an even longer range, this line should pass in the area of Lviv… so that it could play a real defensive role," Medvedev said, referring to the large city in western Ukraine, not far from the Polish border.
Moscow has repeatedly accused Kiev of using Western-supplied weapons to attack civilian targets in Russia. Last month, the UK provided Kiev with an unspecified number of Storm Shadow missiles, which have a range of more than 250km (150 miles). The weapons were subsequently used by Ukrainian troops to target civilians in the Russian city of Lugansk, Moscow claimed.
In recent weeks, Ukrainian troops have significantly ramped up artillery attacks on Russian border regions, firing hundreds of shells and causing civilian casualties as well as widespread destruction.
Medvedev, who currently serves as deputy chairman of Russia's Security Council, also pointed to what he claimed was the "proven complicity" of Western nations in the sabotage of the Nord Stream gas pipelines last autumn. He added that against this backdrop, Moscow "has no more constraints even in moral terms to refrain from destroying enemy cable communications laid on the ocean floor."
In February, American investigative journalist Seymour Hersh released a report accusing the US of orchestrating the attack on the pipelines, which were built to transport gas from Russia to Germany. Hersh claimed the US acted in response to the German government's reluctance to send more military support to Ukraine. Washington dismissed the allegations, although President Putin said he "fully agrees" with Hersh's conclusions.
You can share this story on social media: