Kremlin reacts to 'drone attack' on Voronezh
Ukraine appeared to target civilian infrastructure, Russian presidential spokesman Dmitry Peskov has said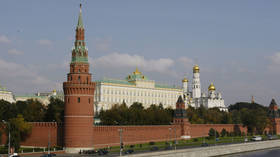 The Kremlin has accused Ukraine of carrying out a deliberate attack on civilian infrastructure after a drone crashed into an apartment block in the Russian city of Voronezh, some 300km from the two countries' border, on Friday. The incident resulted in three people being injured, as well as damage to property.
"The Kiev regime continues attacks on civilian infrastructure [and] residential buildings. They continue acting, and we continue to counter this activity," Russian presidential spokesman Dmitry Peskov said.
The official added that the Kremlin had seen reports that the drone collided with the building after being downed by air defenses, but noted that a full investigation was underway.
The Russian Investigative Committee has opened a criminal probe into what it described as a suspected terrorist act. It alleged that the perpetrators "acted in the interest of the military-political leadership of Ukraine."
The incident happened in western Russia, in a region located close to Ukrainian-controlled territories.
According to local governor Aleksandr Gusev, the three victims were injured by glass shards and received first aid at the scene, but did not require hospital treatment. The area of the building struck by the drone was empty at the time, he added.
Purported footage of the crash circulating online indicated that the unmanned aircraft was carrying explosives.
Moscow witnessed similar drone incidents last week, with three kamikaze UAVs hitting buildings at various locations in and around the Russian capital. Moscow blamed Kiev for the incident.
You can share this story on social media: