Kiev to rescind honor for Ukrainian-born Soviet leader
Ukraine's "decolonization" crusade has targeted Leonid Brezhnev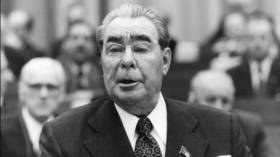 The Ukrainian capital will vote later this week on whether to strip Soviet leader Leonid Brezhnev of honorary citizenship, which he received in 1982, the Kiev city council announced on Monday.
The vote will take place ahead of 'Kiev Day', traditionally celebrated on the last Sunday of the month, deputy chair Vladimir Bondarenko told the outlet Vesti, adding that he expected the proposal to be approved.
"We assume that on May 25, the title of honorary citizen of Kiev will be stripped not only from Brezhnev, but also other representatives of the Soviet party nomenclature," Bondarenko said.
Brezhnev was the secretary-general of the Communist Party of the Soviet Union and the chairman of the Presidium of the Supreme Soviet – the de facto and de jure leader of the USSR – when Kiev awarded him honorary citizenship. The 75-year-old politician passed away in November 1982, after more than 18 years in power.
In October 1964, Brezhnev and Nikolay Podgorny ousted Nikita Khrushchev from the party leadership post, blaming him for the USSR's economic problems. Brezhnev took over the CPSU, while Podgorny went on to become the Soviet Union's head of state. In 1977, Brezhnev replaced him in that office as well.
Both Podgorny and Brezhnev were born in the territory of present-day Ukraine, which was part of the Russian Empire at the time. Podgorny's hometown was Karlovka, in the Poltava Region, while Brezhnev hailed from Kamenskoye, near Yekaterinoslav (present-day Dnepropetrovsk).
Brezhnev's hometown was known as Dneprodzerzhinsk between 1936 and 2016, when its old name was restored by the government in Kiev, as part of the "decommunization" campaign of eliminating all Soviet references from Ukraine. Told to dismantle a monument to the Soviet leader, Kamenskoye told Kiev in January that it literally couldn't afford to do so, citing the current economic situation and the ongoing conflict.
The proposal to revoke Brezhnev's honors was put on the Kiev city council's agenda in March. Last week, the Ukrainian capital changed the names of 26 streets and subway stations to eliminate "Russian-linked" references, in line with the "decolonization" law signed by President Vladimir Zelensky in April.
You can share this story on social media: