Orwell gets street in Kiev
Ukraine's capital is changing "Russia-linked" names of streets and subway stations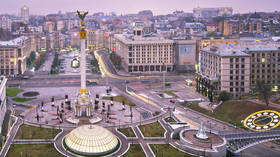 The Kiev city council on Thursday approved the renaming of 26 streets, lanes and subway stations whose names were deemed "linked to Russia or its satellites," Ukrainian media have reported.
The Druzhby Narodov (Friendship of Peoples) station on the green line will now be Zverinetskaya, while Leo Tolstoy Square on the blue line will be Ukrainian Heroes Square. The Prospekt Pravdy (Truth Boulevard) station, which is under construction, has been renamed Varshavskaya, after Warsaw, the capital of Poland.
Almost two dozen streets and lanes have also been included in the renaming spree. WWII Soviet super-spy Richard Sorge and legendary radio announcer Yuri Levitan have been scrubbed, along with Russian poet Mikhail Lermontov and Marshal Alexander Suvorov.
Proletariat Street and Proletariat Lane are likewise no more.
Krasnotkatskaya (Red Weavers) Street – referring to Kiev's Darnitsky Silk Weaving factory – is being renamed after former British PM Winston Churchill. Orlovsky Lane, honoring the city of Orel in Russia, will henceforth bear the name of George Orwell, the author of 'Animal Farm' and '1984.'
Last month, after purging the name of 19th-century Russian explorer Nikolay Przhevalsky, Kiev authorities tried to rename it after Vladimir Kubiyovich, a co-founder and officer in the 14th Waffen Grenadier Division of the SS, also known as the 'Galizien.' Kubiyovich got the most votes in a public poll, but Mayor Vitaly Klitschko canceled the plans after objections from the embassy of Israel.
In October 2022, the street previously honoring Soviet Marshal Rodion Malinovsky was renamed 'Heroes of the Azov Regiment,' with the neo-Nazi founder of the notorious unit, Andrey Biletsky, as a guest of honor at the ceremony. Malinovsky was an Odessa native who commanded the liberation of much of Ukraine from Nazi Germany in WWII.
Ukrainian President Vladimir Zelensky signed a "decolonization" law last month, giving a six-month deadline for erasing all references to Russian history or culture in Ukraine. The campaign to replace Russian-related toponyms was first launched in 2015, by the nationalists who seized power in the US-backed coup the year prior. Since then, more than 50,000 streets have been renamed, along with 900 towns and villages.
You can share this story on social media: