Ukraine bans place names connected to Russia
A new law prohibits toponymy related to its neighbor's history, culture or personalities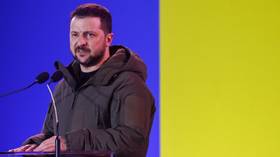 President Vladimir Zelensky has signed legislation eradicating references to Russian history or culture in the names of cities, towns, villages and other geographical locations in Ukraine.
Zelensky approved the so-called "decolonization" law on Friday, according to the website of the Ukrainian parliament, the Verkhovna Rada. The legislation was passed by MPs in March and had been in the works since early last year.
The law prohibits "praising, commemorative, propagandist names" relating to the Russian state, its symbols, historic or cultural places, cities, dates, and events. The ban also covers personalities who "committed military aggression against Ukraine and other sovereign countries," according to the legislation.
The law will come into force three months after its publication, European Solidarity Party MP Vladimir Viatrovich wrote on Facebook. After that, local administrations will have six months to "free the public space from symbols of the 'Russian world': dismantle statues and monuments, rename streets and other objects," he said.
The drive to remove monuments and geographical names associated with Russia and the Soviet Union has been underway in Ukraine since 2015, when a so-called "decommunization" law was adopted in the country.
Since then, the names of more than 900 settlements and some 50,000 streets have been changed, according to data from RIA Novosti news agency.
The process intensified after the start of Russia's military operation in Ukraine more than a year ago. A statue of Catherine the Great was torn down in Odessa in December, even though the city was founded on the order of the Russian Empress in 1794. Several cities, including Dnepr and Chernovtsy, have removed statues and memorial plaques dedicated to classical Russian poet Alexander Pushkin.
Moscow has denounced such policies, saying that attempts to cancel Russian culture and the "forced Ukrainization" of the country violate international norms and infringe upon the rights of around a quarter of Ukraine's population, who are Russian-speaking.
You can share this story on social media: