Ukrainian city reveals why it can't remove Brezhnev memorial
There's no money to pay for demolition, the local council told a group demanding the removal of Russia-related landmarks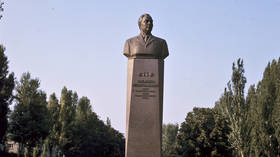 The Ukrainian city where Leonid Brezhnev was born says it cannot afford to pay for the demolition of a memorial to the former General Secretary of the Soviet Union, according to a civic group seeking the removal of Russia-related landmarks.
The city council of Kamenskoye decided not to proceed with the destruction of the monument because funding was required for more important projects, according to a document published last week.
The formal response to the request for the removal of the bust said the local authority was instead prioritizing "territorial defense, protection of the people and ensuring the functioning of the public sector and utilities."
It cited the country's ongoing conflict with Russia as the reason behind the shortage of funds.
Ukrainian law requires the removal of all communist symbols, though in practice this often includes any historical memorials relating to Russia.
The 'Decommunization.Ukraine' group, which is pressuring authorities in Kamenskoye to tear down the city's Brezhnev memorial, also appears to be on a crusade against Aleksandr Pushkin, the iconic 19th century Russian poet, according to its Facebook page.
The NGO has not been discouraged by the response it received from the city council and has pledged to "resolve the issue" regarding the monument to the Soviet Union's second-longest-serving leader before the end of the year.
Kamenskoye, which is located in Dnipropetrovsk Region, was part of the Russian Empire when Brezhnev was born there in 1906, and later became part of Soviet Ukraine. In 1936, it was renamed Dneprodzerzhinsk, but in 2016, after Kiev introduced its "decommunization" policy, the old name was restored.
Brezhnev served as the head of the Communist Party of the Soviet Union – and by extension the de facto leader of the nation – between 1964 and his death in 1982. Only Joseph Stalin served for longer as Soviet leader, and many remember Brezhnev's time in office fondly.
Last month, the Ukrainian city of Odessa removed a statue of its founder, Russian Empress Catherine II. City authorities claimed an online poll involving some 8,000 people had approved the demolition. There are roughly a million residents in the port city.
You can share this story on social media: