Moscow responds to claims Russia interfering in Turkish election
Allegations of meddling are lies, the Kremlin spokesman declared after remarks by opposition frontrunner Kemal Kilicdaroglu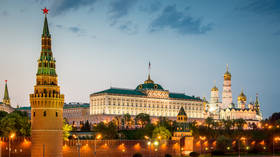 Moscow has rejected claims made by Turkish opposition candidate Kemal Kilicdaroglu that Russian operatives were interfering in the country's presidential race. The politician had insisted that Russia was behind the "montages, conspiracies, deep fakes and tapes" circulating in Türkiye.
Russia has a general policy of not meddling in other nations' elections and would certainly not do so in Türkiye, a nation whose friendship Moscow treasures and whose foreign policy it considers "very responsible, sovereign and thought-out," Kremlin spokesman Dmitry Peskov said on Friday.
"We firmly reject such statements," the Russian official added. "If somebody provided Mr. Kilicdaroglu with such information, they are liars."
The leader of the Republican People's Party (CHP) made the allegations on Twitter this week, without explaining what materials he was referring to. Kilicdaroglu, who is currently polling slightly ahead of incumbent President Recep Tayyip Erdogan, urged Moscow to "get its hands off Türkiye," although he did reiterate his wish for the countries to have positive bilateral relations. The presidential election is set to take place on Sunday.
Erdogan Toprak, a close aide to Kilicdaroglu, told Turkish media that the CHP had monitored "rumors" of Russian interference, which he hoped were not true.
"We favor continuation of relations between states," he said. "But if you diverge from relationships between states towards relationships of parties, these relationships suffer."
Earlier this week, another Turkish presidential candidate, Muharrem Ince, decided to drop out of the race over what he described as a "defamation campaign" targeting him. He accused the movement of exiled cleric Fethullah Gulen, who resides in the US, of being behind the attacks.
You can share this story on social media: