Erdogan rival issues warning to Russians
Turkish presidential candidate Kemal Kilicdaroglu has accused Moscow of spreading "conspiracies"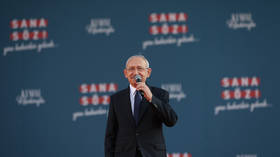 Kemal Kilicdaroglu, the head of Türkiye's main opposition party, has warned Russia against meddling in the country's affairs just days before presidential and parliamentary elections, which will be held on May 14.
"Dear Russian friends," Kilicdaroglu, the leader of the Republican People's Party (CHP), wrote on Twitter in Turkish and Russian on Thursday, "You are behind the montages, conspiracies, deep fakes and tapes that were exposed in this country yesterday," he claimed, without providing any details to support his assertion.
"If you want our friendship after May 15, get your hands off the Turkish state," the politician warned, adding that he is "still in favor of cooperation and friendship" with Russia.
Kilicdaroglu is currently polling ahead of the incumbent, President Recep Tayyip Erdogan, who has led the country since 2014 and served as prime minister for 11 years before that.
The opposition leader's statement comes after another presidential candidate, Homeland Party head Muharrem Ince, dropped out of the race on Thursday, claiming a "defamation campaign" had been waged against him. According to Turkish media, Ince announced his decision after a video was leaked online allegedly showing him having an extramarital affair and riding in expensive cars.
"This is the work of the Gulenist Terror Group," Ince said, referring to supporters of exiled cleric Fethullah Gulen, who resides in the US.
Asked about the upcoming election in Türkiye last month, Russian Foreign Minister Sergey Lavrov said that Moscow "never interferes in the domestic affairs" of other countries. Ankara is a buyer of Russian gas and arms, as well as a popular holiday spot for Russian tourists. The two countries enjoy close economic ties and have several joint projects, including in the field of nuclear energy.
You can share this story on social media: