Russian military clarifies frontline situation in Ukraine
Moscow has denied earlier social media reports of advances by Kiev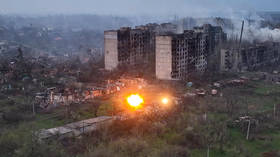 The Russian Defense Ministry has denied rumors of a large-scale Ukrainian counteroffensive, saying in a statement on Thursday that most of the frontline appeared to be relatively calm, with the only heavy fighting in and near Artyomovsk, also known as Bakhmut.
"Reports by certain Telegram channels of 'breaches of defenses' in several places along the line of contact are not accurate," the ministry said around 11pm Moscow time. "The general situation in the area of the special military operation is under control."
According to the Russian military, the last remaining part of Artyomovsk was being stormed with air force and artillery support, while there was an "ongoing battle" to repel the attack of Ukrainian units in the direction of Malo-Ilyinkovka northwest of the city, with "heavy enemy casualties in lives and equipment."
Eight Ukrainian attacks and three attempts at reconnaissance were repelled on the Donetsk front, the Russian military said. Russian forces' efforts to take all of Marynka and blockade Avdeevka are continuing.
Ukrainian troops attempted two attacks towards Kremennaya but were repulsed and three scouting parties were defeated further north near Kupyansk. The ministry also published a list of Ukrainian losses on the Kherson front and reported shooting down 12 HIMARS rockets and an Su-25 ground attack jet.
Earlier in the day, multiple military correspondents had reported that the Ukrainian counteroffensive might have begun, with a "breakthrough" near Artyomovsk and several attacks along the frontline. One reporter cited military sources to claim that the Ukrainians had used chemical weapons on a stretch of the Zaporozhye front as well.
Kiev has not commented on Thursday's movements so far. Earlier in the day, Ukrainian President Vladimir Zelensky claimed his military still needs more time to prepare before the long-awaited spring counteroffensive.
You can share this story on social media: