Ukraine using chemical weapons, Russian journalist claims
Banned substances were reportedly deployed in Zaporozhye Region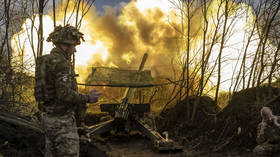 Ukrainian forces have used chemical weapons that caused loss of consciousness after inhalation, Komsomolskaya Pravda correspondent Alexander Kots reported on Thursday, citing sources in the Russian military. The alleged attack happened near Orekhov, in Zaporozhye Region.
The use of substances banned by international conventions appears to be part of the much-anticipated Ukrainian offensive, the journalist wrote on Telegram.
According to Kots, Western-supplied tanks have been spotted outside of Kharkov, while Ukrainian troops have launched attacks on Russian positions north and south of Artyomovsk, which they call Bakhmut.
On Thursday evening, the Russian Defense Ministry said there were "no active operations" on the Zaporozhye front, and that the "general situation in the area of the special military operation is under control."
Multiple Western officials have said over the past week that all the weapons, ammunition and supplies required for Ukraine's grand counteroffensive had already been delivered. On Thursday, the UK confirmed it had supplied Kiev with long-range 'Storm Shadow' missiles.
Ukrainian President Vladimir Zelensky, however, claimed he needed more time and more armored vehicles before he could launch the assault, in order to avoid casualties. In the same interview, Zelensky claimed Ukraine had nothing to do with the drones that attacked the Kremlin last week.
According to US presidential candidate Robert F. Kennedy Jr., whose son had volunteered on Kiev's side for several months last year, Ukraine has suffered around 300,000 military casualties and is taking losses at a far higher rate than Russia.
Donetsk People's Republic authorities had accused Ukrainian troops of dropping chemical weapons from drones back in February, pointing to frontline reports and videos shared by Ukrainians on social media.
In late February, the Russian military warned that the Ukrainian forces in Kramatorsk had received 16 containers with riot control agents CS (chlorobenzylidenemalononitrile) and CR (dibenzoxazepine), as well as the incapacitating agent BZ (3-Quinuclidinyl benzilate), accompanied by "citizens of foreign countries." Moscow suggested the US might be planning a "false flag" attack in the Donbass.
Chemical warfare is forbidden under the Chemical Weapons Convention (CWC), an international treaty that took effect in 1997 and to which both Ukraine and Russia are signatories.
You can share this story on social media: