Kiev 'needs more time' before counteroffensive – Zelensky
Ukrainian troops are "ready" to attack but have not received all the necessary Western weapons, the president has claimed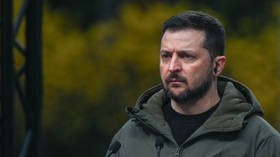 Ukrainian troops are "ready" to mount a long-touted counteroffensive against Russia, but still need more time and equipment before conditions are optimal, President Vladimir Zelensky has told Western media.
"We'd lose a lot of people," Zelensky said regarding the potential consequences of launching the operation immediately. "I think that's unacceptable. So we need to wait. We still need a bit more time."
The Ukrainian leader was speaking to journalists from the Eurovision News network, and was cited on Thursday by the BBC.
Zelensky specifically noted to the journalists that more armored vehicles are required by the Ukrainian army, insisted that his government was eager to use weapons provided by its Western backers and claimed Russia wants to freeze the conflict.
Kremlin spokesman Dmitry Peskov, however, stated this week that the Russian military was still holding back against Ukraine.
"Waging war… means the full destruction of infrastructure, the full destruction of cities," the official said, adding that Russia is "trying to preserve people's lives."
Zelensky rejected the notion that Kiev would be compelled by its foreign backers to negotiate should the counteroffensive fail, arguing that they "can't pressure Ukraine into surrendering territories."
Earlier this week, US Secretary of State Antony Blinken praised efforts by Washington and its allies to prepare Kiev for military action, describing them as "very productive." Ukraine has received weapons, maintenance, the training of troops, and "the right plans," the US official told journalists.
"They have in place across all of those dimensions what they need to continue to be successful in regaining territory," Blinken assessed.
The UK has reportedly provided Ukraine with new military capabilities by delivering air-launched Storm Shadow cruise missiles. The weapons have a range of up to 300km (200 miles), further than any Western arms previously sent to Kiev.
Ukraine has long requested more sophisticated weapons, claiming they are necessary to gain the advantage over Russia. The Kiev government has also urged its Western backers to provide F-16 fighter jets to replenish its dwindling fleet of Soviet-made warplanes, but has thus far not been granted its wish.
Russia perceives the hostilities in Ukraine as part of a wider Western proxy war, and has argued that the continued flow of weapons to Kiev simply prolongs the conflict and increases the risk of escalation. Moscow has declared the demilitarization of Ukraine as among the key goals in its campaign, arguing that NATO's presence in the country poses a critical threat to Russian national security.
You can share this story on social media: