Conditions for Ukrainian counteroffensive 'not in place' – top German general
Bad weather and muddy terrain are preventing Ukraine from launching its long-hyped operation, Berlin's highest-ranking general has said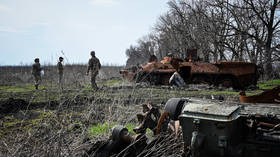 Weather conditions for Ukraine's much-anticipated counteroffensive are still not right, the Inspector General of the German Armed Forces, Carsten Breuer, has told the nation's dpa news agency. Preparations for the operation are in full swing, he claimed, having returned from a two day visit to Kiev last week, adding that the German-made tanks supplied to Ukraine had already seen some action.
"It was explained to me how the battle is fought on the frontlines. The ground is still muddy and moist," Breuer said, following a two-day visit to Kiev. There, the German army chief met with the commander-in-chief of Ukraine's armed forces, Valery Zaluzhny, and Defense Minister Aleksey Reznikov.
"Conditions for a comprehensive offensive were not yet in place in the last few weeks," the German general admitted, adding that some fields in Ukraine still look like "large lakes." Kiev has nonetheless assured him that "plans for the Ukrainian offensive are underway," Breuer said.
He pointed out that Germany's Leopard battle tanks had already been used in the fighting. "It was made clear to me that [they] are in action," he stated, noting that Ukrainians now have enough equipment to "survive in combat." He admitted, however, that Kiev's "requirements will adapt over time."
The German Armed Forces chief spoke in favor of further military aid to Ukraine, arguing that Kiev's troops were supposedly "fighting for all of us." Before arriving in Kiev, Breuer also inspected the Western logistics system in Poland used to deliver military equipment and supplies to Ukraine.
The long-awaited counteroffensive was originally expected to start in the spring – even as early as late winter – but has not materialized thus far. Many Ukrainian and Western officials have since urged the public not to set their expectations for the operation too high. Ukrainian President Vladimir Zelensky's aide, Mikhail Podoliak, said on Tuesday that the much-touted offensive should not be treated as a make-or-break moment in the ongoing conflict.
Meanwhile, Washington has warned that it is Moscow that may launch an offensive shortly. As soon as the weather improves, one can expect "Russians to want to go on the offensive in some areas," US National Security Council spokesman John Kirby said last week.
You can share this story on social media: