US warns of new Russian offensive in Ukraine
The White House has pledged continued support for Kiev as it prepares for its much-touted battlefield push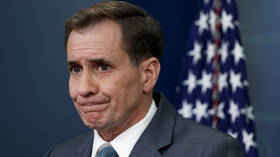 Ukrainian forces could face more Russian attacks even as they prepare a counteroffensive of their own, US National Security Council spokesman John Kirby has warned.
"In the spring, when the weather improves, and it's already starting to improve… we can expect the Russians to want to go on the offensive in some areas," Kirby told state-run news outlet Voice of America on Friday.
"We want to make sure that the Ukrainians are able to better defend themselves against that and if they choose offensive operations of their own, that they've got the capabilities to conduct those," he added.
Kiev has been promising for months to launch a counteroffensive against Russia sometime this spring, after receiving weapons and training for its troops from the US and other foreign backers.
However, the operation has thus far not materialized and may not kick off until the summer, according to recent remarks by Ukrainian Prime Minister Denis Shmigal. Some Ukrainian officials, including Foreign Minister Dmitry Kuleba, warned against treating the much-anticipated offensive as a make-or-break moment in the conflict.
Several reports in the US media have indicated that the Ukrainian push – if and when it comes – may not result in significant gains. Skeptics cited battlefield losses, including among experienced soldiers, a shortage of artillery munitions and mounting pressure by Russian troops as factors that undermine the Ukrainian position.
The frontline city of Artyomovsk, known as Bakhmut in Ukraine, became the site of some of the bloodiest fighting this year. Russian forces have been gradually advancing and are now in the process of seizing the westernmost part of the city, which remains under Kiev's control.
Ukrainian President Vladimir Zelensky has declared the city a "fortress" and refused to pull troops out, despite repeated calls by US officials to do so, according to Western media outlets, citing classified documents allegedly leaked from the Pentagon. Zelensky reportedly fears that the fall of the city would hit morale and has continued to cling to it despite heavy losses by Ukrainian troops.
Evgeny Prigozhin, the head of the Russian private military company Wagner Group, which played a significant part in the fight for Artyomovsk, noted this week that he expected Kiev to start its counteroffensive as soon as the city was captured by Russia.
"Zelensky will need a great victory. And he will start the counteroffensive for the sake of it," Prigozhin said.
You can share this story on social media: