German-made howitzers struggling in Ukrainian mud – NYT
The Soviet-designed Pion system is better at coping with bad weather than the more sophisticated PzH 2000, the paper reports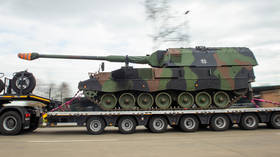 Muddy conditions on the Ukrainian battlefield are preventing Kiev's forces from deploying their German-made Panzerhaubitze 2000 howitzers, the New York Times has reported.
The 155mm self-propelled guns are "barely moving forward" due to the "viscous central Ukrainian mud," the paper wrote on Monday.
"Until the weather improves, there will be no counteroffensive," a lieutenant with Ukraine's 43rd Separate Artillery Brigade told NYT. "The vehicles will get stuck and then what will we do if the shooting starts?"
The commander of the unit, which received several PzH 2000s from Germany and the Netherlands over the winter, has decided to pull all of the howitzers out of the battlezone for now. His concern is that the 60-ton machines will simply be unable to escape once they come under Russian fire, according to the report.
Ukrainian troops, who spoke to the paper, explained that the problem with PzH 2000s is that they have rubber treads that are better suited to flat, hard surfaces, not drenched ground.
The Soviet-made Pion self-propelled gun, operated by both Russia and Ukraine, "actually performs better in muddy conditions" because of "its metal, claw-like tracks," the New York Times said.
The PzH 2000 boasts an electronic targeting system, automatic loading, and other advanced features, but its "sensitive electronics go haywire when exposed to moisture or dirt," the report stated.
"The Panzer really loves cleanliness," one of the troops told the paper. "If you fire off two full loads of ammunition, you need to spend a day servicing it."
Several Ukrainian officials have claimed in recent weeks that bad weather was the reason why Kiev's forces have been delaying their mulled spring counteroffensive. "Obviously, the weather is not allowing so far the heavy tanks to move in the Ukrainian usual spring mud," Ukraine's ambassador to the UK, Vadim Pristayko, told Sky News on Tuesday.
A report by Politico last week claimed that Kiev's main backer, the US, has been concerned that when it is eventually launched, the impact of the Ukrainian counteroffensive could fall short of expectations. CNN also suggested after reviewing satellite imagery that the Kiev's forces will likely have a hard time breaching the elaborate defenses built by the Russian military over the past six months.
Former Russian president Dmitry Medvedev, who now serves as deputy head of the country's Security Council, has insisted that if the counteroffensive really takes place it will result in "mass destruction of personnel and military equipment" and "maximum military defeat" for Ukraine.
You can share this story on social media: