NATO member theorizes on Ukraine military's key problem
Western-supplied weapons turn into "warehouse goods" due to lack of ammo, Czech President Petr Pavel says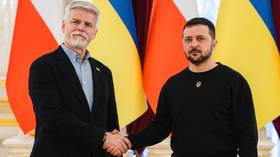 A shortage of ammunition limits Ukraine's ability to defend itself against Russian forces or successfully launch its mulled counteroffensive, Czech President Petr Pavel has said.
Pavel talked to the media on Sunday after his return from a three-day visit to Ukraine, during which he held talks with his Ukrainian counterpart, Vladimir Zelensky, and other officials in Kiev. He also traveled to the city of Dnepr, located not far from the frontline, becoming the first foreign leader to go to the eastern part of the country since the outbreak of the conflict between Moscow and Kiev more than a year ago.
The Czech president said that his many discussions with Ukrainian officials made it "quite clear that what Ukraine needs most of all for successful defense today is ammunition."
"Of course, equipment is also lacking, but the critical shortage of ammunition not only limits Ukraine's ability to defend itself effectively, but also to some extent limits its ability to launch a successful counteroffensive," he told the Czech outlet Ceske Noviny.
According to Pavel, who has a background in intelligence and served as chairman of the NATO Military Committee between 2015 and 2018, the Russian forces have the upper hand in both the quality and quantity of their ammunition and can fire four or five times more rounds on a daily basis than Ukrainian troops.
Kiev's Western backers have been supplying the country with "effective equipment," including main battle tanks such as German-made Leopard 2s and British Challengers, but they come with a limited supply of ammunition, he said.
The Ukrainians can only deploy these weapons in the field for a few days and after that – without ammo – "they basically become warehouse goods," the president said, adding that the situation "really doesn't make much sense."
According to Pavel, Prague will keep looking for "creative ways" to increase its supply of ammunition to Ukrainian forces from its own sources and by cooperating with its allies.
In his interview with Nordic media outlets on Friday, Zelensky assured the outlet that the "counteroffensive will happen" and expressed hope that it would be successful. However, a report by Politico last week claimed that Ukraine's prime backer, the US, has been concerned that the impact of the much-hyped counteroffensive could fall short of expectations.
Former Russian president Dmitry Medvedev, who now serves as deputy head of the country's Security Council, has insisted that if the counteroffensive really does happen, Russian forces would squash it while inflicting a "maximum military defeat" on the Ukrainian military.
Moscow has argued that the West's military shipments to Kiev only prolong the conflict. The Kremlin has also repeatedly warned NATO that delivering more advanced systems to Ukraine makes it more deeply involved in the conflict, thereby potentially risking a direct confrontation with Russia.
You can share this story on social media: