Ukrainian ammunition train destroyed – Russian MOD
A large consignment of weaponry was destroyed in a strike near Kramatorsk, according to the Defense Ministry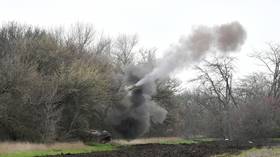 Russian forces have destroyed a Ukrainian train carrying up to 200 tons of ammunition, Moscow's Defense Ministry claimed on Sunday. The strike reportedly occurred in Russia's Donetsk People's Republic, near the city of Kramatorsk, which remains under Ukrainian control.
The Russian military has also been actively targeting Ukrainian artillery units, the ministry spokesman, Lieutenant General Igor Konashenkov, announced during a media briefing.
"Over the past 24 hours, tactical and army aviation, missile and artillery units of the Russian Armed Forces hit 82 Ukrainian artillery units at their firing positions, manpower and equipment in 115 areas," Konashenkov stated.
The attack on the train appears to the largest military gain of the day, but earlier Russian forces also claimed a strike on a command post of Ukraine's 81st airborne brigade near the village of Belogorovka, in Lugansk People's Republic.
Over the past few days, both Russian and Ukrainian forces have been ramping up long-range strikes against each other.
On Saturday, the Russian military claimed the destruction of a major Ukrainian command center, responsible for operations of Kiev's southern troops. The bombing was carried out with sea-based cruise missiles, according to Moscow.
Earlier this week, the Russian military launched a major missile salvo at Ukraine, targeting multiple groupings of Ukrainian military reserves. The military said the strike was a success, and prevented the redeployment of reserves toward the front line.
During the bombardment, a multi-story residential building was damaged in the Ukrainian city of Uman, with more than 20 civilians killed, according to Kiev. While it was not immediately clear what exactly hit the building, Ukrainian authorities have blamed Moscow for the incident. However, Kiev's own troops have hit civilian targets in the country – and even beyond – with air defense projectiles on multiple occasions during the conflict, which has been raging since February 2022.
Ukraine, meanwhile, has intensified the shelling of Russia's border regions, including the city of Donetsk, which has been subjected to artillery and rocket attacks on an almost daily basis. On Friday the city endured a massive shelling, which destroyed and damaged multiple residential buildings and critical infrastructure, leaving at least nine civilians dead and over a dozen injured.
Overnight, Kiev's forces shelled the village of Suzemka in Russia's Bryansk Region, killing at least four civilians according to the local Governor, Aleksandr Bogomaz.
You can share this story on social media: