Ukrainian command center destroyed – Moscow
The facility was targeted by a salvo of sea-launched cruise missiles, according to the Russian Defense Ministry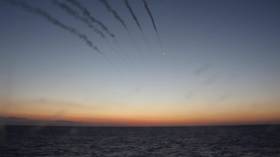 The Russian Defense Ministry claimed on Saturday that it has destroyed a major Ukrainian command center. Cruise missiles launched from the sea were used to target the facility, the ministry's spokesman, Lieutenant General Igor Konashenkov, announced during a media briefing.
"On the evening of April 28 of this year, Russia's Armed Forces delivered a group strike with sea-based long-range precision weapons at the location of the commanding officers of Ukraine's joint troops grouping 'Kherson,'" Konashenkov stated, adding that the goal of the strike "had been achieved." The official did not provide any estimates on potential Ukrainian casualties.
The strike comes as both sides in the ongoing conflict, which has been raging since February 2022, have seemingly ramped up long-range attacks against each another. Earlier this week, Russia launched a cruise missile salvo targeting groupings of Ukrainian military reserves. The strikes successfully prevented their redeployment towards the frontline, according to the Russian military.
As a result of the attack a multistory residential building was damaged in the Ukrainian city of Uman, located in the central Cherkasy Region. It was not immediately clear what exactly struck the building, given the many instances of Ukrainian air defense projectiles having hit civilian sites in the country and even beyond. Nevertheless, Kiev squarely blamed Russia for the incident, which left more than 20 civilians dead, according to local officials.
Ukrainian forces, meanwhile, appear to have intensified attacks on residential areas in the Russian city of Donetsk, which has seen almost daily shelling throughout the conflict. On Friday, the city and its vicinity were subjected to particularly intense shelling, which left at least nine civilians dead and over a dozen injured. The attacks destroyed multiple residential homes and damaged a local hospital. Kiev's forces also landed a direct hit on a passenger bus, killing all of its occupants.
The uptick in strikes comes ahead of an expected Ukrainian counteroffensive, long-advertised by the country's top officials. On Friday, President Vladimir Zelensky said he expected the offensive to be "successful," dismissing Western concerns over Ukraine's capabilities that have appeared in several media outlets in recent weeks.
"A counteroffensive will happen. We are preparing for it," Zelensky said in an interview with several Nordic media outlets. "I strongly believe that it will be successful and that we will de-occupy our territories."
You can share this story on social media: