Dozens of foreign mercenaries killed in Iskander strike – Russia
Up to 60 members of the so-called 'Georgian Legion' were eliminated in Donbass, according to the Defense Ministry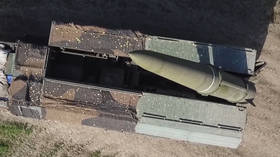 Dozens of foreign mercenaries have been killed in a strike on the Ukrainian-held town of Konstantinovka in Russia's People's Republic of Donetsk, Moscow has said.
Up to 60 members of the so-called 'Georgian Legion' were killed and 15 military vehicles were destroyed in the attack, while 20 other mercenaries were seriously wounded, the ministry's spokesman, Lieutenant General Igor Konashenkov, announced during a briefing on Monday.
The strike, carried out using the Iskander short-range ballistic missile system, targeted a library in Konstantinovka, which foreign fighters were using for lodging and storing ammunition, he added.
"The eliminated militants of the Georgian Legion were involved in the brutal torture and murder of Russian servicemen near Kiev in March last year," Konashenkov said.
The Russian military possesses data on every foreign mercenary linked to the killing of Russian POWs, the spokesman claimed. "Every one of them will get their well-deserved retribution," he added.
In early April last year, a gruesome video emerged online, which purportedly showed Ukrainian forces executing a wounded Russian soldier while the bodies of several other POWs lay in pools of blood nearby. At least one of the troops in the footage had his hands tied behind his back, and was apparently shot in the head at point-blank range.
The New York Times confirmed the authenticity of the clip, saying it had been filmed on March 30 in a village near Kiev. Ukrainian news agency UNIAN shared the video from the execution site on social media with the caption: "The Georgian Legion is helping the Ukrainians with mopping up Kiev Region."
One of the members of the Georgian Legion, who was identified among the Kiev troops shown in the footage, had given an interview several days after the incident, vowing that his unit would not be taking any Russian prisoners.
Russia's Investigative Committee has launched a criminal case over the execution, saying Ukrainian forces had "committed a harsh violation of the Geneva Convention on Prisoners of War."
Moscow estimated last year that at least 350 citizens from the former Soviet republic of Georgia had been fighting on the Ukrainian side during the conflict.
You can share this story on social media: