'Bad weather' delaying counteroffensive – Ukraine
Tanks can't contend with the current muddy conditions, Kiev's ambassador in London has claimed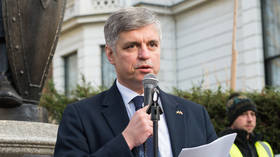 Ukraine is holding off on its long-touted counteroffensive against Russia because it currently cannot use Western-provided armor due to bad weather, Kiev's ambassador to the UK has claimed.
"Obviously, the weather is not allowing so far the heavy tanks to move in the Ukrainian usual spring mud," Vadim Pristayko told Sky News on Tuesday.
The comments mirrored those made last week by Defense Minister Aleksey Reznikov, who stated that Ukrainian forces were broadly ready for a push against Russia but needed "God's will, the weather, and a decision of commanders."
The US and its allies have sent dozens of main battle tanks and hundreds of armored vehicles to Ukraine to bolster the expected counteroffensive. While Western officials have argued that Kiev has all it needs for a successful operation, behind closed doors the American military has reportedly expressed doubts about Ukraine's ability to break through Russian defensive lines.
Multiple Western media reports have suggested that the counteroffensive could be a decisive moment of the conflict, and that Kiev may find it difficult to secure further packages of military assistance unless it gains significant ground. Senior Ukrainian officials have rejected this, urging continued support regardless of the outcome.
Pristayko told Sky that Ukraine is targeting "a breakthrough offensive," but at the same time cautioned that "too much hope is put on this one."
The envoy accused Moscow of exaggerating its own military capabilities, citing the latest missile strikes against Ukrainian targets as an example.
Russians "are blowing it out of proportion reporting hundreds of rockets. In reality there were just dozens of them sent our way," he insisted.
The claim that up to 100 missiles were launched in a recent attack by Russia appears to have originated from Ukrainian official Sergey Shakhet, police chief in Nikolaev Region. He shared the figure on social media on Monday, with Ukrainian media later disseminating it. The Russian Defense Ministry did not mention the number of weapons used in its own report on the strikes.
You can share this story on social media: