Ukrainian troops 'generally ready' for counteroffensive – minister
The military is awaiting the order to attack, Aleksey Reznikov has said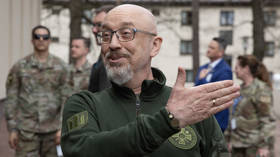 The Ukrainian military is broadly ready to launch its much-touted counteroffensive against Russia but is awaiting the order to attack from senior officials in Kiev, Defense Minister Aleksey Reznikov has said.
"As soon as we have God's will, the weather, and a decision by the command, we will do it," the official stated during a press conference on Friday.
Reznikov was briefing the media on the state of Ukrainian forces and their use of heavy weapons provided by Western backers.
Ukraine has been supplied with "very advanced weapon systems, especially in terms of the armor fist [armored fighting vehicles]," the minister reported, although he added that training on how to operate them was still underway.
NATO Secretary-General Jens Stoltenberg said this week that members of the US-led military bloc had delivered 98% of the arms pledged to Kiev, including 1,550 armored vehicles and 230 tanks. The head of US European Command, Christopher Cavoli, made a similar assessment during a Congressional hearing in his homeland.
However, Mikhail Podoliak, an aide to Ukrainian President Vladimir Zelensky, has challenged those claims, asserting in an interview that the delivery level cited by NATO officials was "too high" and that his country needed more weapons.
Reznikov previously cautioned against heightened expectations regarding the future offensive, arguing that hopes in Ukraine and among its foreign backers were too elevated.
Kiev has rejected the idea of peace talks with Moscow and has pledged to continue fighting until it seizes all of the territory that it has lost to Russia. Leading Western media outlets have warned that the expected push may be Ukraine's last chance to make significant gains, and that failure to do so would undermine its hopes for future military assistance.
Moscow considers the conflict in Ukraine to be part of a US-led proxy war against Russia, waged by Ukrainian troops with widespread Western support. The Kremlin has accused Washington of deliberately turning Ukraine into an "anti-Russia" to provoke hostilities.
You can share this story on social media: