UK confirms long-range missile delivery to Ukraine
Defence Secretary Ben Wallace has downplayed the move, admitting that Russia has more capable weapons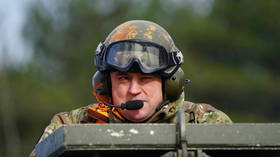 British Defence Secretary Ben Wallace has confirmed that his government is supplying long-range cruise missiles to Ukraine. CNN previously reported that several Storm Shadow weapons have already been delivered.
Wallace informed parliament about the arms transfer on Thursday, claiming it was a "calibrated and proportionate response" by London to the situation in Ukraine. He described the missile as a "long-range conventional-only precision strike capability," but declined to provide details about the latest addition to Kiev's arsenal of Western-provided hardware.
"The use of Storm Shadow will allow Ukraine to push back Russian forces based within Ukrainian sovereign territory," the secretary predicted. He downplayed the significance of providing the new capability to Kiev, stating that the missiles were "not even in the same league" as those available to Russia.
Kiev has long asked Western nations to give it longer-range weapons, but the requests were previously denied. There were reportedly concerns that giving Ukraine the option to attack targets inside Russian territory, which is recognized as such by the US and its allies, would be a major escalation of the conflict. Kiev promised not to make such a move.
Kremlin spokesman Dmitry Peskov commented on the UK decision to send missiles, pledging that the Russian military will make necessary adjustments to counter the new threat.
Moscow has warned that the continued supply of weapons to Ukraine will simply prolong the conflict, which cannot end unless Kiev and its foreign backers address core Russian security concerns. Russia views the hostilities as part of a US-led proxy war against it.
You can share this story on social media: