Ukraine's counteroffensive has begun – media
Kiev's troops have reportedly struck Russian positions northwest of the city of Artyomovsk in Donbass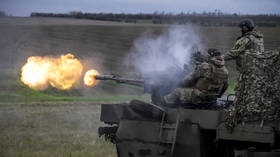 Ukrainian forces have breached Russian defenses northwest of the city of Artyomovsk in Donbass, Russian war correspondent Evgeny Poddubny reported on Thursday evening. He believes it's the beginning of Kiev's much-touted spring offensive.
The attackers appear to have launched a series of simultaneous strikes north and south of Artyomovsk, also known as Bakhmut, several other Russian war reporters added. The city has been the scene of intense fighting between Russian and Ukrainian troops for months.
In addition, Kiev's troops have reportedly used tanks to strike the city of Soledar. Located northeast of Artyomovosk, it was captured by Russian troops after heavy fighting in January.
Meanwhile, in Zaporozhye Region, Kiev's troops have reportedly attacked Russian positions near the city of Guliay-Pole. They are seeking to break through the Russian forces' first defensive line, Poddubny explained.
A large column of heavy military equipment was also allegedly spotted moving towards the Ukrainian side of the border with Russia's Belgorod Region in the northeast.
On Thursday evening, the Russian Defense Ministry said the "general situation in the area of the special military operation was under control." Denying the reports of any "breakthroughs," the ministry did note there was a pitched battle near the hamlet of Malo-Ilyinovka, northwest of Artyomovsk.
Kiev has not commented on Thursday's movements so far. Earlier in the day, Ukrainian President Vladimir Zelensky claimed his military still needed more time to prepare before the attack.
The country's forces were generally "ready" for the operation, he told a collection of Western state media outlets, adding, however, that the cost of the offensive would probably be too high at the present moment. "We can go forward, and, I think, be successful," Zelensky said. "But we'd lose a lot of people. I think that's unacceptable. So we need to wait."
The long-awaited attack was originally expected to start in the spring – even as early as late winter – but has been repeatedly postponed by Kiev, which cited unfavorable weather conditions and the need to stockpile more Western weapons and equipment before the operation.
Earlier this week, German Armed Forces chief General Carsten Breuer also said that the conditions for a massive operation in Ukraine were "not in place."
You can share this story on social media: