EU wants Georgia to turn away Russian planes
Tbilisi has been advised to support Western aviation sanctions against Moscow, a senior official has said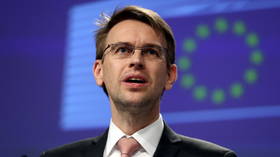 The EU is urging Georgia not to allow Russian planes to enter its territory, Peter Stano, the bloc's lead spokesperson for foreign affairs, said on Thursday. His comments came a day after Russian President Vladimir Putin lifted the flight ban and visa regime with the Caucasian country.
Speaking during a press briefing, Stano explained that the EU had "taken note of the decision by the Russian authorities to lift the air travel ban on Georgia."
He pointed out, however, that "Russia's illegal aggression" against Ukraine had resulted in numerous Western countries slapping sanctions on the country's aviation sector. "We don't allow flights to Russia, from Russia, over Russia," the spokesman reminded everyone.
Against this backdrop, he continued, the "EU encourages Georgia, which is aspiring to become [a] EU candidate country, to align with the existing EU sanctions … against Russia in the area of aviation," as well as to "remain vigilant" when it comes to possible attempts to circumvent those restrictions.
He also warned Georgia about what he described as "unsafe Russian planes," claiming Western sanctions were hindering their maintenance.
However, commenting on Russia's decision to introduce a visa free regime, he said that Georgian citizens should decide for themselves whether they would like to take advantage of this opportunity.
Leonid Slutsky, who chairs the Committee on International Affairs in Russia's State Duma, responded to Stano's remarks by saying "blackmail and interference in the affairs of sovereign states have become a familiar policy tool used by the collective West."
Unlike many Western nations, Georgia never imposed sanctions on Moscow over the Ukraine conflict. On Wednesday, Speaker of the Georgian Parliament Shalva Papuashvili indicated that Tbilisi had no intention to change its stance on the matter in order to avoid an escalation in bilateral relations.
That same day, Irakli Kobakhidze, the leader of the ruling Georgian Dream party, opined that Russia's decision to lift the air travel ban, which ended up benefiting Georgian citizens, stemmed from Tbilisi's "pragmatic policy course."
The move, however, infuriated Georgian President Salome Zourabichvili, who called it a "provocation." She said that it would remain "unacceptable as long as Russia continues its aggression on Ukraine and occupies our territory." She was referring to Moscow's friendly ties with South Ossetia and Abkhazia, which broke free from Tbilisi and were recognized by it as independent after the 2008 conflict between Russia and Georgia.
You can share this story on social media: